Winemaking
Our Philosophy:
Our wines are handcrafted to perfection using the perfect marriage of Old-World techniques and the latest modern technology.
At Girardet, we firmly believe that great wine starts in the vineyard, therefore all of our vines are hand-harvested and hand-pruned. The vines are also watered by hand for the first two years, and then they are dry-farmed to stress the vine and produce the most flavorful grapes possible.
Our Whites: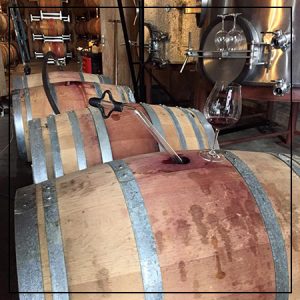 The grapes are sorted by hand to insure uniform ripeness and flavor before being pressed whole-cluster, as gently as possible, in a computer-controlled press. Whole-cluster pressing reduces yields but results in a wine with brighter, more delicate flavors.
The juice for our white wines is fermented cool at 45-55 °F in stainless steel to preserve the fresh fruit flavors. Aging is also done entirely in stainless steel to create wines with fresh, vibrant flavors and acidity.
Our Reds:
The grapes are all hand-sorted to select ripe clusters with the best flavor and balance, and then fermented with 30% whole berries in small, open-topped fermenting vats. They are gently pumped over once or twice a day resulting in soft, juicy flavors.
The maceration period lasts only 7 to 18 days, and the wine is pressed while the flavors are still fresh and the tannins are silky smooth. Pressing is achieved by gravity-flow as gently as possible in a computer-controlled press. The wine is then aged in small neutral French oak barrels for 9 to 30 months prior to bottling.
Final Steps:

All Girardet wines are bottled on-site using our state-of-the-art bottling line to ensure the highest level of consistency. The wines are also packaged and cellared on-site prior to release.
We invite you to join us for tastings and a tour of our facility.